Our wine club subscription is one of the best around!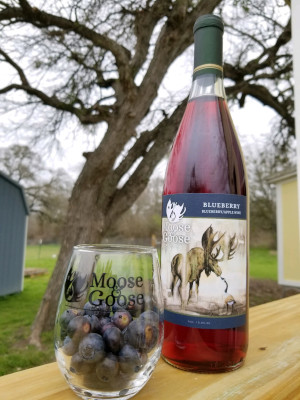 Finding a wine subscription that truly offers something unique can be tough. It's remarkably easy to get stuck in a "wine rut" where nothing seems to excite your tastebuds anymore and tried-and-true turns into tired-and-tasteless. Here at Moose & Goose Winery, we're shaking up the wine subscription game with our unique line of artisan fruit wines that will delight your palate and add some much-needed variety to your wine cabinet.
With our broad selection of over 20 fruit wines to choose from, it's easy to see why our customers say we're one of the best wine subscription options available. From light and effervescent flavors like peach, pear, and strawberry to bold, full-bodied options like elderberry and marionberry, there's something for everyone to enjoy.
Part of what makes us one of the best wine subscription options out there is the level of choice we give subscribers. As a member of our wine club, you'll be invited to our exclusive Wine Club Pick-Up Party every February and September, where you can select your choice of six bottles to take home with you. While you're here, you're welcome to participate in a tasting to find something fresh and new to go with your well-known favorites. We're always happy to make recommendations and help you discover fantastic new options that you'll love.
Don't wait to join the best wine subscription available for those living in Belton, Texas. Contact us today to learn more or get started setting up your wine club membership.
---