Branch out from the usual when you join one of the best wine subscriptions available!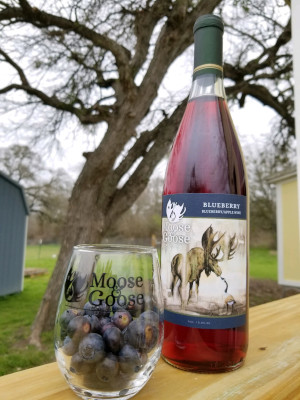 Do you love drinking wine but feel like you're often in a rut with nothing exciting to tempt your tastebuds? Have you tried wine clubs but found that they all offer the same general selection of wines? If this sounds like you, then you've come to the right place.
At Moose & Goose Winery, we bring something new to the wine-drinking world with our bright, bold selection of artisan fruit wines. Our wine club is the perfect choice if you're looking for the best wine subscription to help you expand your palate and experience new and exciting wines.
We understand that the best wine subscription services give you options, so we're proud to offer subscribers the chance to pick their own six bottles from our selection of over 20 artisan fruit wines to include in their subscription each February and September.
Membership in our wine club also gains you access to our exclusive Wine Club Pick-Up Party hosted at our beautiful farm in Temple, Texas. There, you can pick up your new selection of wines, try out a tasting session, meet fellow wine enthusiasts, and enjoy the atmosphere of our charming farm. Other perks include a free glass of wine each month, 15% off bottles and cases, and early access to information on our new and upcoming wine releases.
Whether you're a seasoned wine drinker looking for something new and exciting or are just starting to dip your toes into the world of wine, our subscription plan is a great way to add variety and flavor to your wine collection. To join one of the best wine subscription services available, or to learn more about our farm, event space, and other services, simply reach out to us.
---