We want to share our passion for handcrafted fruit wines (and adorable goats) with you.
As a proud prior military family, we've done our fair share of traveling. One of the things we loved about exploring new areas was trying local wines, both here in the US and abroad. It always stood out to us that wines are often described as having various fruit notes or flavors, and we were inspired to create actual fruit wines that really deliver on flavor without compromising on the experience of drinking a glass of good wine. Our hand-crafted fruit wines are made with fresh, delicious fruits, and there's something for every kind of wine lover to enjoy.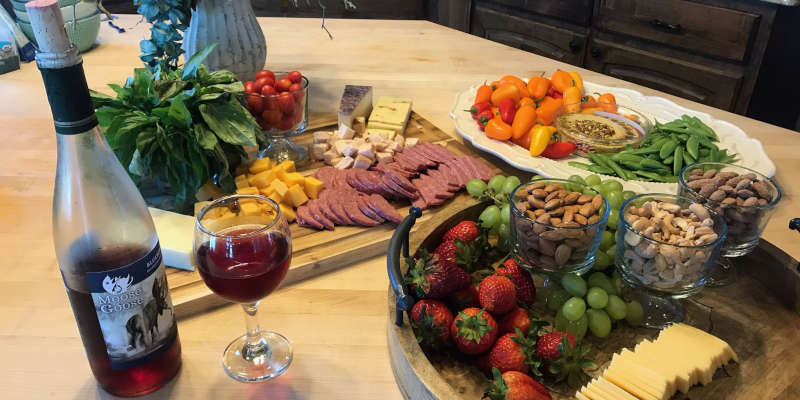 Our winery is located on a beautiful farm where friends and family are welcome to hang out and soak in the scenery while enjoying a glass or bottle of wine. If you think good wine and gorgeous views aren't enough entertainment, never fear. We have a resident herd of adorable goats whose antics will provide plenty of laughs and photo opportunities. Be sure to stop by for our monthly wine tastings or to enjoy any of the special events we put on throughout the year – the specific dates we're open to the public are posted on our online calendar for your convenience.
For those who want to enjoy our wines even when we're not open, our wine club is the perfect solution. Each February and September we host a Wine Club Pick-up party that you'll be able to attend while stocking your wine fridge. Membership also includes a 15% discount on bottles and cases of wine, a free glass of wine once per month, and the chance to hear about special events or new wine releases before anyone else.
We're also happy to serve as a venue for any upcoming special events you may have. We'll supply the wine; you bring the snacks! Contact our staff to learn more about using our winery in Temple, Texas as a venue, place an order for bottles and cases, or learn more about any upcoming events.